Logansport High School art students now have their very own gallery.
Senior Kayla Mullins plans to display her art portfolio on one of the walls in the soon-to-be-open art gallery at the high school. She has created drawings, graphics, oil paints, sketches, as well as photography.
"Being a senior and coming to the close of my whole high school career," Kayla said, "and being able to see the accomplishments that I've made coming to just be there for everyone to see is very rewarding."
An open house for the art gallery is planned from 6 to 7:30 p.m. Wednesday, March 18. Bryan Hole, LHS art department head, said 50 to 60 students will show off their work, including sculptures, paintings, graphics, ceramics, among much else.
The gallery, centrally located from the library, has large windows out front for students and other visitors to peer in, dark wood floors, white walls and black exposed duct work.
In the past, Hole said, students weren't set up to showcase artwork. There are a few display cases around the building, but not a room wholly devoted to art. He said the gallery will enhance the school's art program.
Monika Ness, junior, and Haleigh Hutsell, senior, both dabble in each type of art media. Haleigh said they attempt anything they're assigned to create. She wished the school had an art gallery when she started four years ago.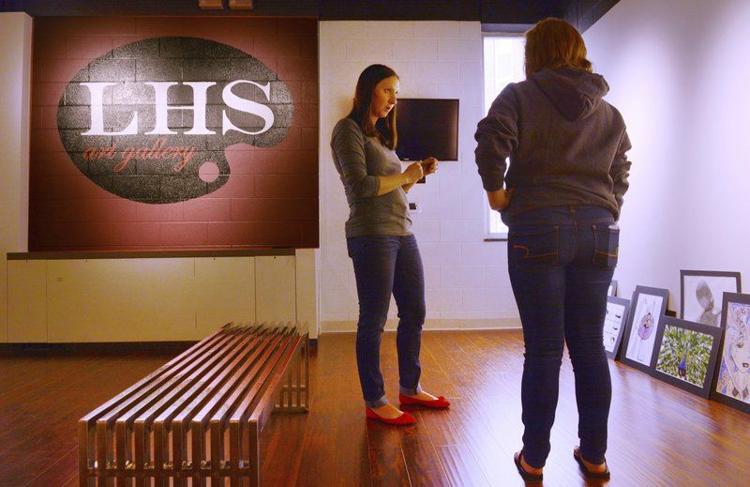 "It's been long overdue," she said. "We really needed a place of our own. I feel like in the art department, we have so many talented students, so many things that we want to show off, and it's nice that we finally have a place to do that."
Monika agreed.
"We have so many talented people that are in our school and so many people that have so much ability, and no one gets to see it," she said.
Back in December 2013, the Cass County Community Foundation heard about the strong art department at LHS and then supplied a grant to create the gallery. And students from the Century Career Center's building trades class assisted with the construction inside the gallery since the end of February 2014.
"It's taken time," said Principal Matt Jones.
---

"But I think we've got it right. You want to do it the right way. And it's turned into a wonderful space for our students' artwork."

---
The gallery could also be a venue to display high school alumni professional work or the work of other local artists, Jones said. Also, Hole said at the end of the school year, he hopes to do another art show for all students to display work.
Kayla said she hopes to be one of those professional artists. She plans to study graphic design at Ball State University in the fall.
"Making the art is really fun," she said, "but the final product of it, when it's finished, it's nice to look at it and know that this is something that I can excel in and this is something that I want to do with my future."
Gabby Howell, junior, still has another year in high school, and another year to see the potential of the art gallery. At the open house, she'll have three ceramic pieces: a coil pot, a wall pocket and a mug. And Gabby said she told everyone to come out and see them.
"I'm really pumped to show it off," she said.